Hiring tech talents aiming to become self-employed! Starting salary: 50 000 SEK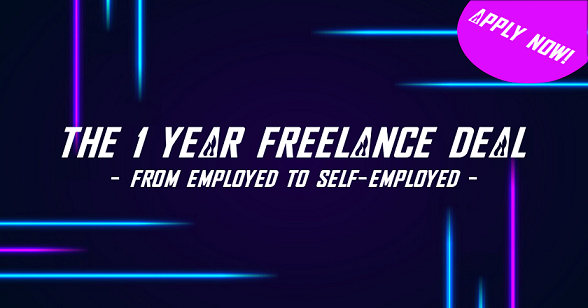 We are hiring people who are passionate and competent in tech. Our goal is to guide and support you to become self-employed after 1 year. Salary starts from 50 000 SEK.
Do you want to:
Become self-employed, independent and be your own boss?
Have more time and money left to actually realize your passions?
Earn more money than you would being employed?
Read more about the differences between being hired versus being self-employed
here
(only available in Swedish).
What we can offer you
Full-time hire
Competitive salary - starting salary from 50 000 SEK a month
Huge opportunity to grow tech competence wise
An exciting alternative career path
The perfect setup if you want to become self-employed and start your own businesses
Knowledge within bookkeeping and other necessary competence and tools that you need if you are going to start your own businesses
After 1 year, if you want and if you feel ready, you will transition to becoming self-employed instead of being hired by us
We are two senior freelancers specialising in tech product development. We are one full-stack developer and one product owner/project manager that will teach, guide and help you along the way towards becoming a self-employed freelancer, standing on your own two feet. With us, you will receive the know-how and competence in how to start your own business as well as side-businesses and projects. Our goal is to help you excel in your competence and independence and finally to become self-employed.
Feel free to check us out on Linkedin: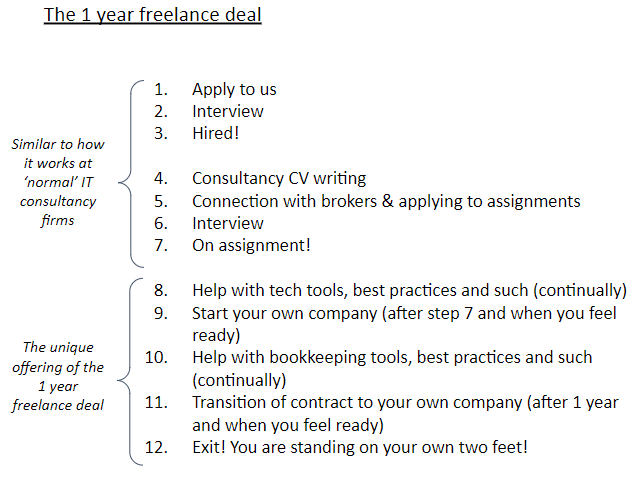 What we would like you to bring to the table
Preferred mindset:
Customer-focused problem-solver
Prestigeless and being humble and honest about what you do not know
Driven, eager to learn, pragmatic and business-minded
Preferred skills:
Engineering background, a technical degree or self-taught with proven results
Focused on building great products that solve customer problems
As a software or data engineer
As a product owner or project manager
Track record of tangible and concrete achievements. For example a website or software product you have built yourself or contributed in building.
Proficient in at least one programming language.
Keen interest in and understanding for tech product development.
General experience from tech products and/or tech projects. Specific experience in driving and managing development of products and/or the delivery of projects.
Additionally:
Working on your own side-projects is also very meritable.
About the recruiting process
In order to apply, please send your resume and a short motivation to us at: anna@annaleijon.com
We will try to keep the recruiting process short (preferably only two interviews - one technical and one personal) and quick!
If you have any questions, please reach out to us at: anna@annaleijon.com
The interviews will proceed continuously and everyone who applies can expect fast feedback.
Looking forward to hearing from you!
Best regards,
Anna Leijon & Joakim Lustig
If you want to read more about our motivations and analysis behind this job advertisement - go to this
link
!